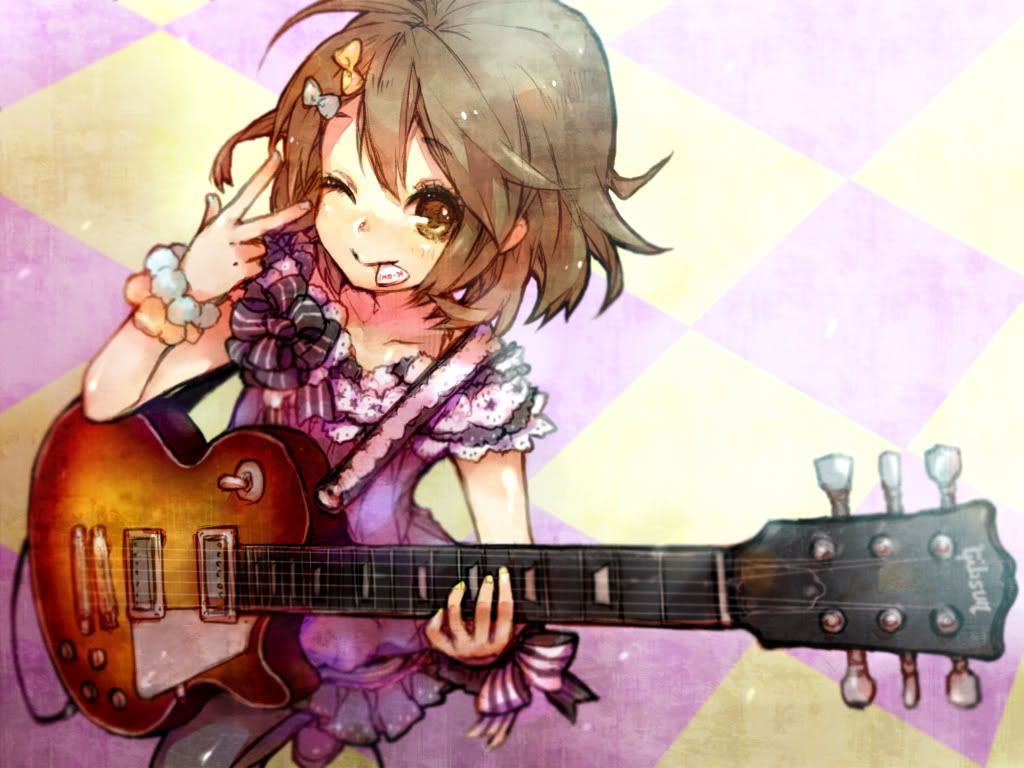 And we starts of this list with last year's number one girl! Yui is still so awesome! Can't wait to see the movie!
This was a good year for the girls of anime. I think it can be best summed up as a lot of crazy and a lot of cuteness! What more could you want?!
10. Ika-Musume
Ika is a given to any list. She's a squid girl for goodness sake! Not to mention, chibi-Ika is one of the most cutest things in the world! She's hilarious, quirky, and the reason we all love the show. The proof of her awesomeness is that none of us would mind at all if she were to ever successfully take over the world!
9. Kobato Hasegawa
Kobato is most definitely the best character in Haganai. She's a little like all of us in a way…she cares a little too much about Japanese cartoons. Though that's where her charm comes from. You can't help but love her constant switch between being an adorable younger sister and truly believing she is a ten thousand year old vampire. She totally needs a spinoff where she tells the true tale of "My little sister can't be this cute!".
8. Meiko "Menma" Honma
For a dead girl, Menma is ironically extremely lively! Menma is a character you really grew to love and appreciate. She still is quite a static character, but as the series goes on you learn to love her who she is. While still wanting her to have her wish come true, you also don't want her to simply disappear. Menma really is an unforgettable girl.
7. Homura Akemi
Before episode ten, Akemi was shown in a negative light. Even so, that only made her the badass of the series (besides Kyuubei of course). After episode ten, you can see her in such a completely new light (I don't want to give away spoilers), and it makes her even more likeable. I actually liked most of the characters in this series, but when deciding too pick out just one, I knew right away that it had to be Homura because of her incredible strength and dedication to her cause.
6. Kurisu "Christina" Makise
On a superficial level, Kurisu has a great sense of style and has fantastic hair! Otherwise, she's a super smart (and not annoying smart like we usually see) and witty lab assistant. We need more characters like her in anime!
5. Yuno Gasai
Everyone's favourite yandere for obvious reasons! Yuno takes obsession and craziness to a whole new level where awesome over takes creepiness. No matter what she does you can't help but think that it just translates as absolute awesomeness! She's so cool that you can't help but root for her in her truly insane "antics".
4. Ringo Oginome
Ringo has changed a lot since the first half of Penguindrum. Along the way we've learned to love her for her craziness and we love her for her determination. One way or another, Ringo was really awesome. Ringo is a girl who knows what she wants and will do anything to go out and achieve her goals (even if that means putting a frog on her face to say the least). As the series continued and we learned more about her we also really started to sympathize as well. Also she is a pro at being a stalker!
3. Aoi Yamada
How can I not include Yamada on this list to put it simply. Yamada really steal the whole show for me in Working! In all honesty, she's surprisingly self-centred and lazy, but somehow it still translate as just more loveable qualities of hers. Yamada is a hilariously unique character and in this sequel, they finally gave her some more of the attention she deserved!
2. Ohana Matsumae
Ohana is someone who I find very admirable. She's at first just a city girl and when she gets thrown into a new life, although she admits its difficult, she still makes light of it and keeps on smiling. Ohana wants to improve who she is and is one of those people who can bring a smile to anyone's face. Ohana proves how endearing a strong female lead in a series can be!
1. Erio Touwa
Erio is my hero. She doesn't care what anyone thinks and does whatever she wants. In the first three episodes of the series she wraps herself in a futon and eats pizzas whole. Even after she gets a "reality check" she compensates by just being extremely cute and a girl who continues to do her own thing, her way. Of course there's also the fact that she may very well be an alien, but even if she isn't, she still has a magical quality to her that makes her deserving of taking the number one spot on my list. She's someone who I'd really love to be my friend!